AMS Performance 2015+ VW MK7 Golf R / GTI Turbo Muffler Delete
DESCRIPTION
AMS is first in class because of our long history of durability and performance with industry leading engineering. We are extremely excited to introduce the newest product in the AMS engineering and performance tradition, the AMS Performance VW MKVII Golf R Turbo Muffler Delete! Our Turbo Muffler Delete upgrade is the perfect piece to power up the sounds of your high-output IS38 Turbo!
Unmatched Billet Construction
The AMS Engineering team utilized Solidworks© (3D software) to blueprint the smooth features and geometry to optimize flow through the shaft. They then 3D printed the TMD to ensure an OEM level of fitment before CNC'ing the very first billet article! The AMS VW MKVII Golf R Turbo Muffler Delete upgrade lets you hear all the great sounds coming from your IS38 Turbo. The AMS Golf R MK7 Golf R TMD paired with the the AMS Performance Carbon Fiber Intake are truly a winning combination.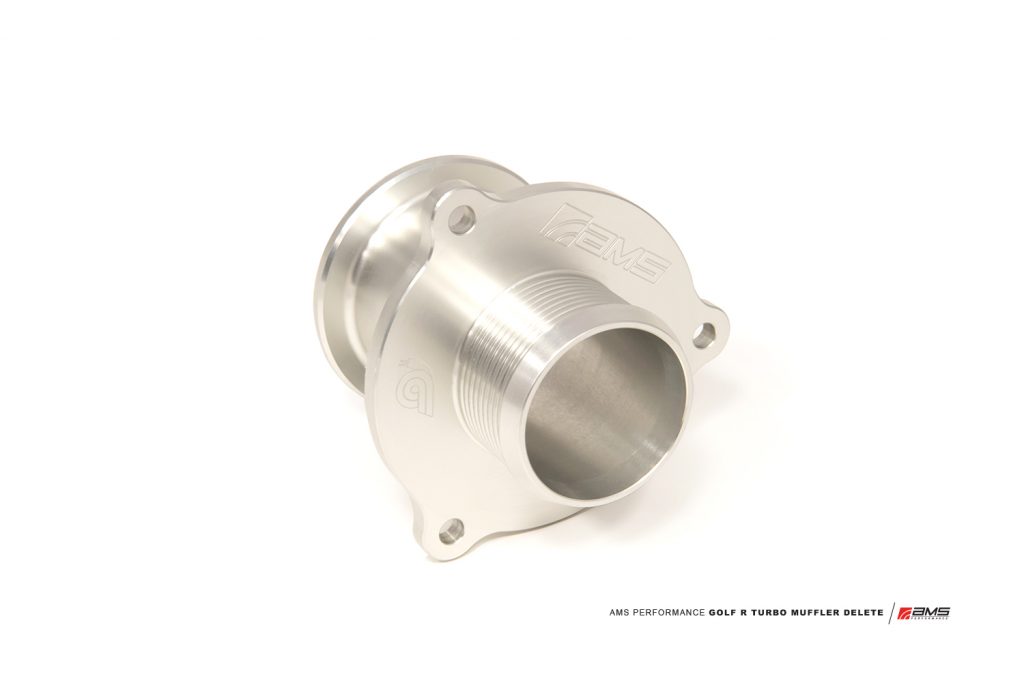 The Pinnacle of Performance
The AMS MK7 Golf R Turbo Muffler Delete features an extremely wide mouth that matches the exact shape and size of the turbine outlet. This increases overall turbine efficiency and performance by letting the air flow out smoothly into the charge piping. The long smooth shaft allows the air to maintain velocity without a buildup of back pressure inside of the TMD. The AMS MK7 Golf R Turbo Muffler Delete is built to perform. It also lets everyone hear that VW Golf R sound.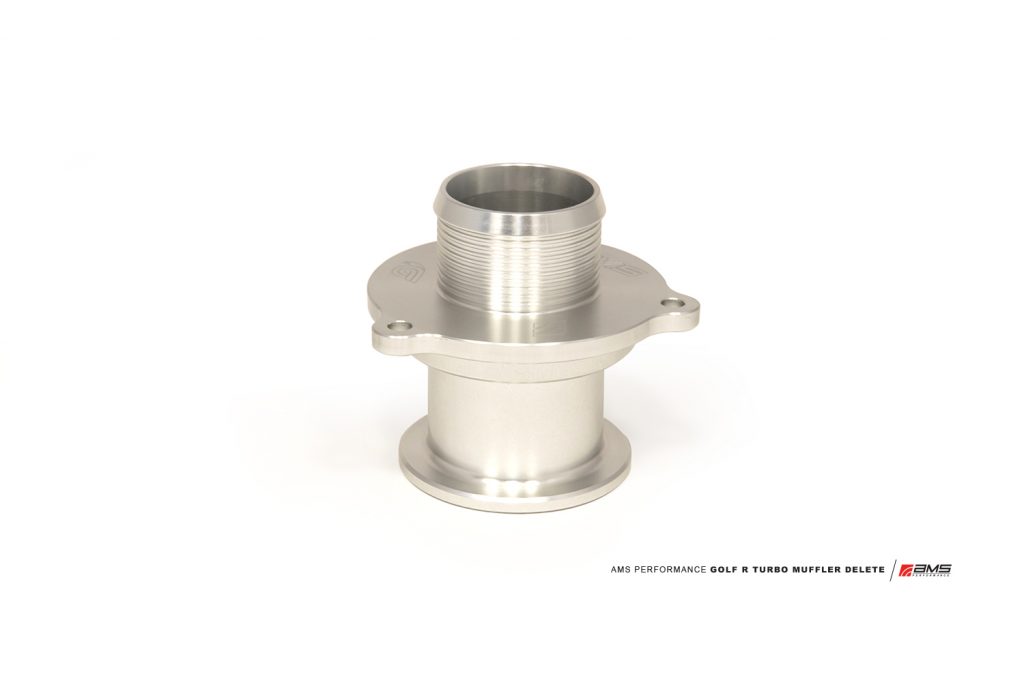 An Unmistakable Golf R Note
The AMS Performance VW MKVII Golf R Turbo Muffler Delete upgrade offers a more pronounced, throaty intake note under wide open throttle yet is quite subtle at idle. Engineering and testing allows us to build performance parts that stand head and shoulders above the competition. It's a perfectly balanced sound for your ultimate hot hatch!
Be the VW MKVII Golf R driver to beat. Order the AMS Performance MK VII Golf R Turbo Muffler Delete today!

Exclusive Benefits
Superior CNC Billet Machining
Solidworks© Designed for Ultimate Performance
Drastically Increased Air Flow

1 piece design makes for easier installation.

Removes the Restrictive Factory Turbo Muffler

Creates a Smooth, Uninterrupted, Flow Path for Air Leaving the Turbocharger

Factory Style Ribbed Surface for Coupler

Direct Bolt-on Installation, Requires No Cutting or Drilling

Can Be Used on Stock or Modified Vehicles
Includes
Billet MK7 Golf R Delete
3 Bolts
Comprehensive Installation Instructions
Applications
2015+ VW MKVII Golf R
2015+ VW MKVII GTI
2014+ Audi A3/S3
This product is compatible with the following vehicles
| | | | | | | |
| --- | --- | --- | --- | --- | --- | --- |
| Vehicle Make | Vehicle Model | Vehicle Variant | From | To | Engine | Notes |
| volkswagen | Golf | MK 7 | 2015 | | | 2.0L GTi Performance -FWD Petrol |
| volkswagen | Golf | MK 7 | 2015 | | | 2.0L R - 4WD Petrol |
At AMS we specialize in automotive performance for Japanese and German turbocharged vehicles. We offer engine computer tuning (calibration), repairs and maintenance and most importantly engine and other driveline modifications.
First and foremost AMS is an engineering company. Unlike other shops our parts are engineered to be the best performing you can buy. Most shops in the industry have a basic understanding of engine performance but at AMS we take it far past that using computer aided designs and mechanical engineers with years of motorsports experience.