7th November 2023
This is the Biggest Launch in Turbosmart's history
Discover a new range of Turbosmart Turbochargers, Your Go-To destination for boost at Part-Box.com.
Turbosmart is happy to announce the all new performance range of turbochargers.
They are available in Air Cooled and Water Cooled, the lineup is based around the V-Band fitment and this includes a variety of T3 and T4 solutions. There are reverse rotation units for this after that mirror image look for your twin turbo setup, or if you want to take advantage of a unique single install. The Turbosmart turbocharger range is small, light and fast.
Smaller
Turbosmart turbochargers has been designed to be tightly packaged as possible while not impacting or compromising performance.
Lighter
Advanced and modernized materials and the bearing system contributes to a performance turbocharger significantly lighter than the competition.
Faster
The focus and aerodynamic balance of the Turbosmart range of turbochargers is quick acceleration that is achieved through maximum flow at low shaft speeds while optimizing other areas of the turbocharger by ensuring outright mass flow is maintained at higher speeds and flow.
Lightweight 310s Stainless Steel Investment Cast Turbine Housings. These housings has been CFD designed by developing aerodynamics and performance, but also weight. The design of Turbocharger turbine housings is such that we've taken advantage of a more advanced manufacturing process by creating the most lightweight housings possible while ensuring thermal stability and impact strength for the installation's life. Each housing is optimized for AR specification at the tongue and across the housing.
Lightweight, Aluminum compressor covers include CFD-driven and optimised AR design with an anti-surge inlet, built in speed sensor and boosts reference ports. The covers has been designed for the lowest possible weight whilst providing optimal aerodynamics and respect to the required AR's.
T14 Inconel Turbine wheel for Extreme EGTs and unique aerodynamics and profile for high mass air flow potential with a focus on overall engine pressure differential. Trim combinations has been developed to optimize end-to-end engine pressure differential through expansion ratios and reduced back pressure. The low profile hub of shaft contributes to mass flow, accompanying the aerodynamic balance further.
Proprietary Dual Ceramic Bearing System with optimised efficiency and reduced friction losses, contributes to increases in transient response. The bearing system is designed and validated for the lowest rotating mass and friction for industry-leading shaft inertia and maximized transient transient response. The bearing system accommodates aggressive aero at low shaft speeds while maintaining stability at high shaft speeds where the high-end flow capabilities can shine.
Oil Management and Centre Housing has been developed to offer market-leading oil sling at low shaft speeds through an oversized shaft hub with improved oil sling at the compressor side. At the same time, double gas rings exist on the turbine side, by combining to achieve exceptional oil management. Upgraded Oil management secures oil containment within the turbocharger assembly and eliminates the concern of oil passing into the compressor, or exhaust and gives to optimal emissions.
The housing is created to aid oil flow and is manufactured from modernized cast iron, includes an integrated backing plate for the compressor cover. This additional rigidity in the chassis allows for better alignment and concentricity of the compressor cover while this offers improved overall strength and impact resistance.
Aerodynamics of the Compressor Wheels have been specifically engineered for aggressive low-speed performance, enhancing power output at lower shaft speeds. Employing a 7+7 Splitter Blade configuration, the design incorporates a tapered back-cut wheel recessed into the central housing to optimize airflow control. These compressor wheels are meticulously crafted from 2618-T6 Forged CNC Billet Aluminum, featuring CNC milling and an integrated nut, effectively reducing rotational mass.
Transient Response Takes Center Stage: Turbosmart Turbochargers Redefine Responsiveness with Cutting-Edge Engineering
The Turbosmart Turbocharger lineup has been meticulously crafted to prioritize swift transient response. This achievement is made possible by our advanced bearing system and main shaft assembly, achieved through a precise synergy of technology and materials. Our commitment to responsiveness extends further by seamlessly blending this agility with aggressive aero enhancements, resulting in superior performance even at lower shaft speeds. By achieving target boost and power levels quicker, coupled with an unwavering focus on overall engine pressure differential through meticulous rear wheel and housing design, these turbochargers deliver an exceptional end-to-end experience. Our primary goal is to optimize mass air flow at all shaft speeds, ensuring your acceleration remains unparalleled.
Design, Test, Validate: Turbosmart Turbochargers Prioritize Engine Pressure Differential our Turbosmart turbocharger lineup is meticulously engineered to address lower engine pressure differentials. This is achieved through precise wheel design, trim selection, and aerodynamics, all while keeping the unit compact, lightweight, and highly responsive.
We have subjected the Turbosmart turbocharger range to rigorous testing under demanding conditions, guaranteeing an optimal balance and performance. This comprehensive testing includes the compilation of test data, such as compressor maps. Below, you'll find details on the TS-1-5862VB082E model.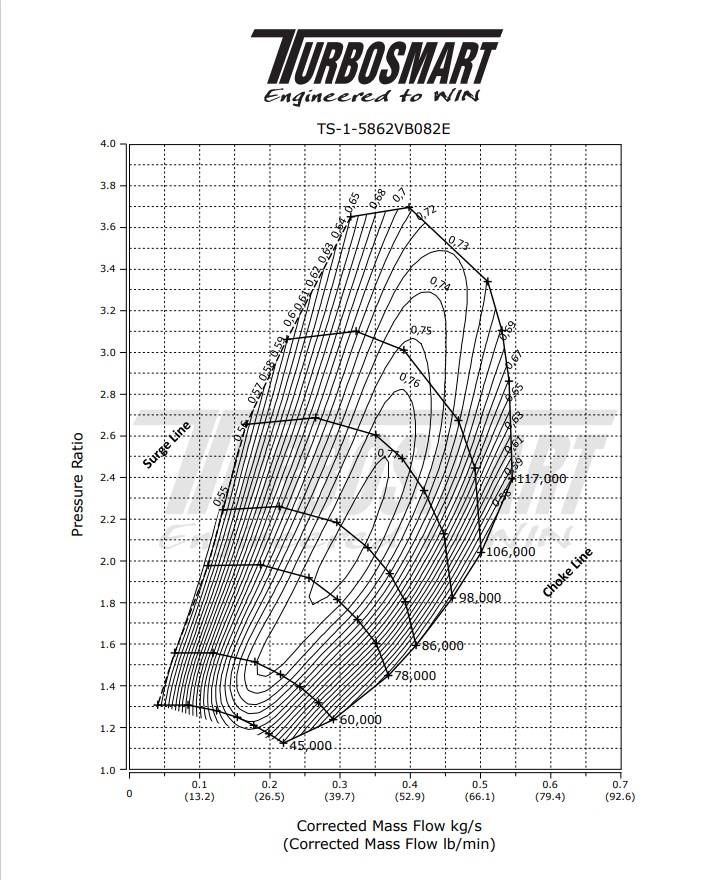 Features
Unparalleled transient response
Aggressive aerodynamics with 7+7 splitter wheels
Lightweight 310s stainless steel investment cast turbine housings
Lightweight, Aluminium compressor covers
CFD driven designed housings for optimal ARs and flow
T14 Inconel turbine wheel for extreme EGT's
VSR speed balanced
Proprietary dual ceramic bearing system
Integrated Iron backplate on center housing
OIL COOLED       
TS-1-5862T3063E
TS-1 Performance Turbocharger 5862 T3 0.63AR Externally Wastegated
Ready Early 2024
TS-1-5862VB082E
TS-1 Performance Turbocharger 5862 V-Band 0.82AR Externally Wastegated
Ready Early 2024
TS-1-6262VB082E
TS-1 Performance Turbocharger 6262 V-Band 0.82AR Externally Wastegated
Ready Early 2024
TS-1-6262VR082E
TS-1 Performance Turbocharger 6262 V-Band 0.82AR Externally Wastegated (Reversed Rotation)
Ready Early 2024
TS-1-6466VB082E
TS-1 Performance Turbocharger 6466 V-Band 0.82AR Externally Wastegated
Ready Early 2024
TS-1-6466VR082E
TS-1 Performance Turbocharger 6466 V-Band 0.82AR Externally Wastegated (Reversed Rotation)
Ready Early 2024
TS-1-6870T4096E
TS-1 Performance Turbocharger 6870 T4 0.96AR Externally Wastegated
Ready Early 2024
TS-1-6870VB096E
TS-1 Performance Turbocharger 6870 V-Band 0.96AR Externally Wastegated
Ready Early 2024
TS-1-7675T4096E
TS-1 Performance Turbocharger 7675 T4 0.96AR Externally Wastegated
Ready Early 2024
TS-1-7675VB096E
TS-1 Performance Turbocharger 7675 V-Band 0.96AR Externally Wastegated
Ready Early 2024
TS-1-7880T4096E
TS-1 Performance Turbocharger 7880 T4 0.96AR Externally Wastegated
Ready Early 2024
TS-1-7880VB096E
TS-1 Performance Turbocharger 7880 V-Band 0.96AR Externally Wastegated
Ready Early 2024
WATER COOLED
TS-2-62662VB082E
TS-2 Performance Turbocharger (Water Cooled) 6262 V-Band 0.82AR Externally Wastegated
End of November 2023
TS-2-62662VB082I
TS-2 Performance Turbocharger (Water Cooled) 6262 V-Band 0.82AR Internally Wastegated
End of November 2023
TS-2-6466VB082E
TS-2 Performance Turbocharger (Water Cooled) 6466 V-Band 0.82AR Externally Wastegated
End of November 2023
TS-2-6466VB082I
TS-2 Performance Turbocharger (Water Cooled) 6466 V-Band 0.82AR Internally Wastegated
End of November 2023
TS-2-7170VB096E
TS-2 Performance Turbocharger (Water Cooled) 7170 V-Band 0.96AR Externally Wastegated
End of November 2023